Could we be anymore hooked on Friends? Even years after it finished, it's still our number one go-to for lazy day binge-watching, starting from the beginning more times than we can remember. And with each re-watch, our obsession with the clothes gets stronger and stronger, leaving us frantically googling 90s style. Our favourite this time around? Monica's laid-back looks have been high on our radar. Here are some style lessons to learn from Monica Geller's outfits.
#1 Blue jeans are a must
It seems the number one must-have in Monica's wardrobe is a pair of perfect, classic blue jeans. So many of our favourites of Monica Geller's outfits are centred around simple blue jeans with a classic cami, reminding us of the power of good basics. A well-fitting pair of blue jeans will see you through anything, dress up with a cropped cardigan and mules or dressed down with a baggy sweatshirt like on Monica's down days. Whether you prefer straight leg, skinny jeans or even a culotte style, it doesn't matter as long as your denim has that indigo shade that 90s style loved. For us, we'll be opting for a mom jean cut to double-down on the 90s inspiration. 
#2 Femininity with an edge
When it comes to occasion dressing, our mind goes straight back to Monica in that metallic silver dress for their New Year's Eve party in season 1. The dark silver satin gives this dress the signature Monica edge, keeping the backless cut from feeling too classic or feminine. The contrast between the edgier front of the dress with its halterneck cut versus the bombshell back with the low back and leg slit is classic Monica Geller styling, doing feminine with a twist in true 90s style. This is easily one of our favourites of all the Friends outfits.
#3 Day dresses for all-weather
For days when jeans don't cut it but a gown might be a tad too much, we love Monica's little tea dresses and A-Line skirts. A regular occurrence in Monica Geller's outfits, mini skirts and dresses as a 90s staple and we love how she styles hers. Paired with tights, cropped jumpers and chunky loafers, this is a look we're always trying to recreate on colder days, teaching us a lesson in how to make day dresses work for all seasons. 
#4 Clean white shirts
In life, we're all just searching for the perfect white shirt, and it seems Monica hit the jackpot. The simplest styling weapon ever, a white shirt is the cherry on top of Monica Geller's outfits. Whether they're tied in the front and paired with jeans, tucked into tailored trousers for a more masculine vibe, or layered under a dress; we've never been more inspired to get the iron our and wear our own. We especially love this broderie take on a white shirt layered under a simple black dress, adding a touch of fun into our workwear wardrobe or some 90s chic to our weekend brunch attire.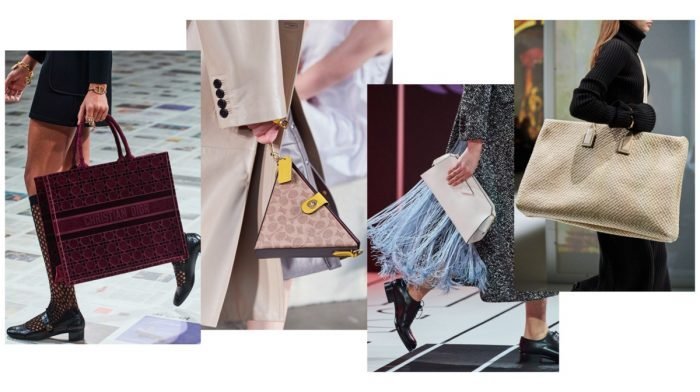 Giving you the need-to-know from fashion month, here are the top bag trends from the FW20 runways.
#5 Tomboy vibes
The era of the tomboy, 90s outfits were all about laidback cool vibes, and Monica Geller's outfits are a perfect example of that. While Rachel and Phoebe's looks stayed girly, Monica was never afraid of being one of the boys in more masculine-inspired fits. Offstage, Courtney Cox provided us all the suit inspiration we could need with this oversized grey matching set, while in character Monica Geller's outfits make us want to reach for our boyfriend's jumpers. From dungarees to plaid-print tailored trousers, Monica Geller's 90s style could be inspo for the boys as well as the girls.
#6 And a nice top
Looking for a solution for the jeans-and-a-nice-top dilemma? Well, Monica has a few. We love her simple camis, making us want to ditch the OTT organza and uncomfy bodysuits in favour of a simple red cami Paired with jeans or trousers, this basic can be dressed up or down, putting it right to the top of our to-buy list.
Another option? Cropped cardigans have been a favourite of ours for a while as we love Rachel Green's outfits with buttoned-up cardigans and skirts. But try styling it like Monica, opting for a vintage-inspired cardigan with a subtle print, layered over a cami and left open. We'll be wearing ours to the office and the bar alike.
Or level up the look by swapping out the cardigan for a sweater vest or waistcoat, worn buttoned up with some tailored trousers for some serious waist-slimming styling. Next time the dilemma arises, look towards Monica's monochrome white waistcoat and black trousers outfit.