The Sex and the City series may have finished many years ago in 2004, but it's still as culturally relevant today as it was back then. Advocating the purchase of fashion magazines rather than food ('it fed me more', Bradshaw noted of Vogue), Sex and the City allowed us all to live vicariously through the lives of four fabulous Manhattanites – and their wardrobes.
Tongue-in-cheek Instagram account @EveryOutfitOnSATC has hit the limelight recently, as they cast a critical eye over the style successes (and slip ups) of the series. Whilst Carrie and co's outfits were admittedly outrageous – how many pairs of knee socks can one woman own? – we're still a little in love with Bradshaw's bulging wardrobe, and secretly wish it was our own…
If you've been Carrie-d away by the glitz and glamour of Sex and the City, it's time to inject some of their New York flair into your everyday style. We take a look back at some of the most iconic trends of the series, and show you how to get the look with a little help from MyBag.
The Tutu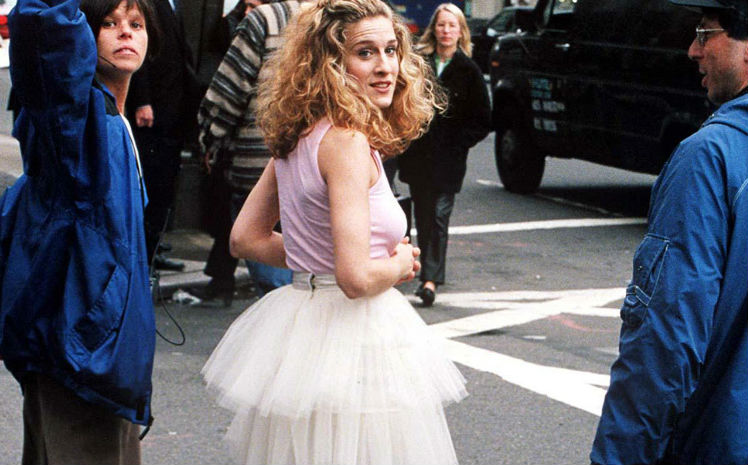 Image: Bustle
No SATC style guide would be complete without the inclusion of the tutu. Featured in the opening credits, Carrie's tutu-twirl is one of the most iconic fashion moments ever – yet it's far from designer. Found in a $5 bargain bucket, Patricia Field had a tough time convincing show's producer Darren Star that it was a must-have – luckily, her style steal paid off…
"Channel the pastel colour palette of Carrie's tutu-and-tee ensemble with a blush-pink tote – think sugary candyfloss hues for summertime chic."