More so than ever Keith Haring is famed for pioneering his pop art graffiti-like work across New York City. A significant tool in the 80s uprising of art as an outlet for rebellion in the States, Haring used his iconic styles to make political and social statements throughout the city to create and activate change. An activist of this kind right up until his death in the late 90s, Haring's inspiring work has since become ever-more recognisable the world over for its bold, simplistic yet unique style of story-telling. Fast-forward to 2018 and the artist's legacy is upheld by the Keith Haring Foundation, an organisation set up by the artist in 1989 and transformed into a group which perpetuates Keith's artistic and philanthropic legacy through the continued preservation and circulation of his artwork and archives.
I am interested in making art to be experienced and explored by as many individuals as possible… the viewer creates the reality, the meaning, the conception of the piece.
– Keith Haring –
For Spring Summer 2018 all-American heritage brand COACH has paired up with the foundation to create a special-edition collection combining Keith Haring's beautifully preserved illustrations with their own signature craftsmanship. Celebrating two legacies, which although so far apart in time and presence, are both inspired by the same spirit and optimism of what their New York City home represents.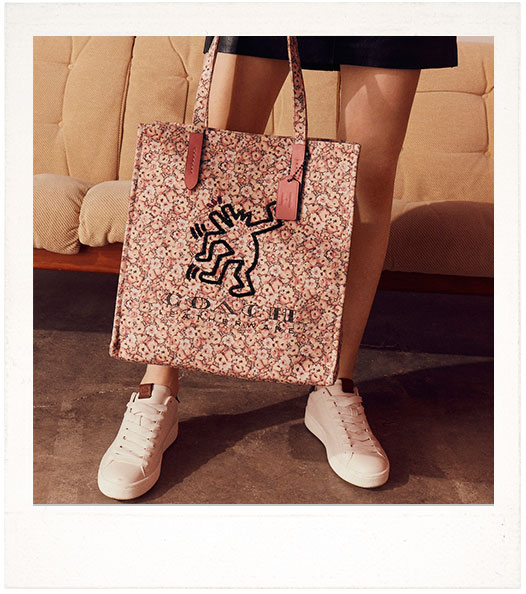 From the infamous 'Dancing Dog' on handy tote bags, to a sequined beating heart on a camera bag in the most adorable shade of baby blue, to glittery vintage-inspired shoulder bags with embellishments to die for, COACH x Keith Haring SS18 is the go-to feel-good accessories investment for the Summer of 2018.
One of our favourites in a long line of dreamy Coach collaborations the brand is never afraid to merge the classic and the quirky.