Autumn/Winter is around the corner and choosing the right bag can sometimes be overwhelming, especially with how trends evolve and vary from season to season. Whilst there are numerous external factors such as influencers and celebrities, who tend to dictate the latest trends through their social media channels. According to Social Media Today, 87% of online shoppers use social media while making their final shopping decision.
So, which bag trends were people loving in A/W22 and which ones did they choose to leave behind? Using Google Trends, we analysed search demand to see which bag styles have seen the biggest increase and decrease in popularity over the A/W season in 2022 versus 2021. We also teamed up with MyBag's buying team, Kirstyn McIntyre and Simone Taylor to predict which bag styles we'll be wearing this A/W in 2023.
Practical, efficient and travel bag styles
Ranking as the most popular bag style was the sling bag, the perfect one-strapped bag designed to be worn across the body and above the waist, with search demand increasing by +104.9%. We can understand why this style and others such as the boston bag (+43.5%), duffle bag (+29.8%), beach bag (+27%) and backpack (+22.2%) were chosen the most, with how the travel industry saw a boom after Covid19 travel regulations were relaxed.
We also love the sling bag style, as it has the practicalities of a backpack with the ability to hold all your essentials, but in a compact space, which makes travelling, attending outdoor events and other occasions where you would need your hands free easier.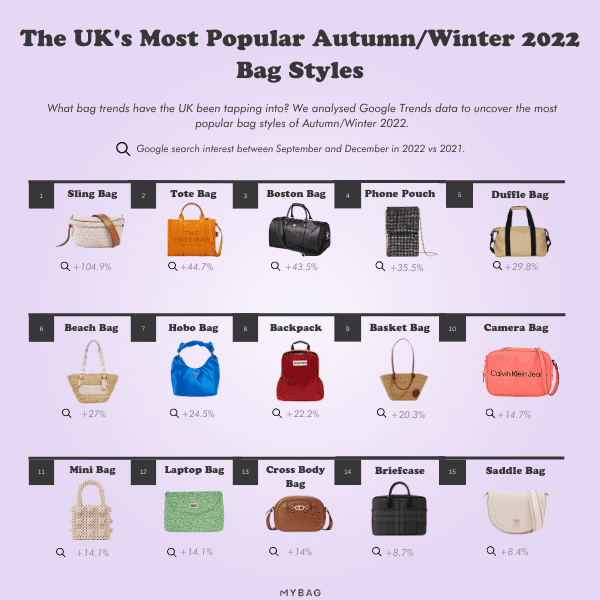 In 2022, we saw the love of mini bags come back, with brands such as Marc Jacobs getting in on the action and creating the mini version of their iconic tote bag. As a result, bag styles such as the phone pouch (+35.5%), camera bag (+14.7%), crossbody bag (+14%) and saddle bag (+8.4%) have seen positive growth in interest, with more people opting more so for efficiency and practicality when purchasing their next bag.
It's a no to non-hand-free bags
From reviewing the bag styles which saw a downward spike in demand during A/W22, we've seen that non-hand free bag styles were not what people were preferring. The preference for practicality was strong, which is why bag styles such as bowling bags (-7.2%), bucket bags (-7.2%), minaudière (-5.6%), coin purses (-1.9%) and clutch bags (-1.1%) had seen a decline.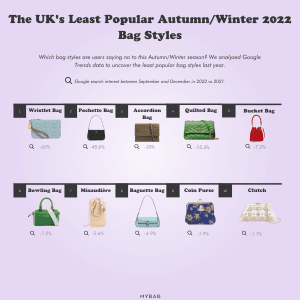 So, what bag trends should we be investing in this year's A/W season?
Since we now know what bag styles were the UK's favourites in 2022 and which ones we may be leaving behind, what bag trends should we be investing in? We have teamed up with MyBag's buying team, Kirstyn McIntyre and Simone Taylor, to make predictions about some trends we might see in A/W 2023.
#1 Denim Accessories
With the emerging Y2K trend this year, it's no surprise denim has resurfaced and been seen across major designer brands with its versatility you can gain from this type of material finish.
Simone says: "A denim wash finish is a trend we're seeing come through from brands such as Coach and Marc Jacobs. It's fun, young and casual which is a nice break from the cleaner and more minimal silhouettes we've been seeing over the past seasons."
For those that don't know, get to know. Diesel's 1DR bag has blown up in the bags and accessories market. This shoulder bag is a truly iconic symbol of the brand's identity.
Kirstyn says: "A bag trend that isn't going anywhere is the 1DR bag from Diesel – it comes in a variety of sizes and colours so perfect for any occasion. Also spotted on celebrities and influencers, it's the IT bag of the season."
Since the search demand for bridal bags is up YoY by +18%, many designer brands are widening their collections and introducing bridal exclusives to tap into the wedding market. From pearl-embellished bags to delicate clutches.
Kirstyn says: "It's an upcoming trend we're seeing each year with brands such as Shrimps and Vivienne Westwood expanding the collections into both bags and jewellery.
It's becoming a fun trend to update a traditional wedding with statement pearl earrings or logo bags like the Sophia Webster 'Wifey for Lifey' clutch most recently pictured on Sophie Habboo."
#4 Brights
With major brands bringing colour to their A/W23 exclusive collections, it's not surprising, colours such as red (+15% YoY) and green (+22% YoY) have increased in consumer interest according to WGSN.
Simone says: "Statement accessories are a year-round trend, but A/W23 sees a rainbow of colour across bags and jewellery. There are pops of orange, yellow, green, blue and so on to lift any outfit and brighten anyone's day. Shrimps, Coach, Kate Spade, Pinko, and Stine Goya all cover this."
#5 Metallic
Y2K has taken the fashion industry by storm from clothing to accessories, which is why we've seen the demand for metallics come back as a trend rather than diamanté embellishment.
Kirstyn says: "With the prominent Y2k trend, it's only natural to see silver metallic not far behind. Making a statement on SS23 runways, this has now carried through into a lot of A/W23 collections due to the continued high demand. Brands like Vivienne Westwood, Diesel, Coach and Marc Jacobs all feature metallic ranges across cross bodys, clutches and shoulder bags."
Take Home Message
However you prefer to accessorise your outfit during the A/W period, it's great to know trends are always evolving. Whether you're looking to revamp your bag collection or need inspiration for your accessories, there are so many bag styles out there to suit your preferences.
Methodology
We compiled a list of over 25 bag styles, before using Google Trends to track their search interest over A/W in 2022 vs 2021. We then looked at the increase or decrease in search interest over that period to uncover the most and least popular bag styles.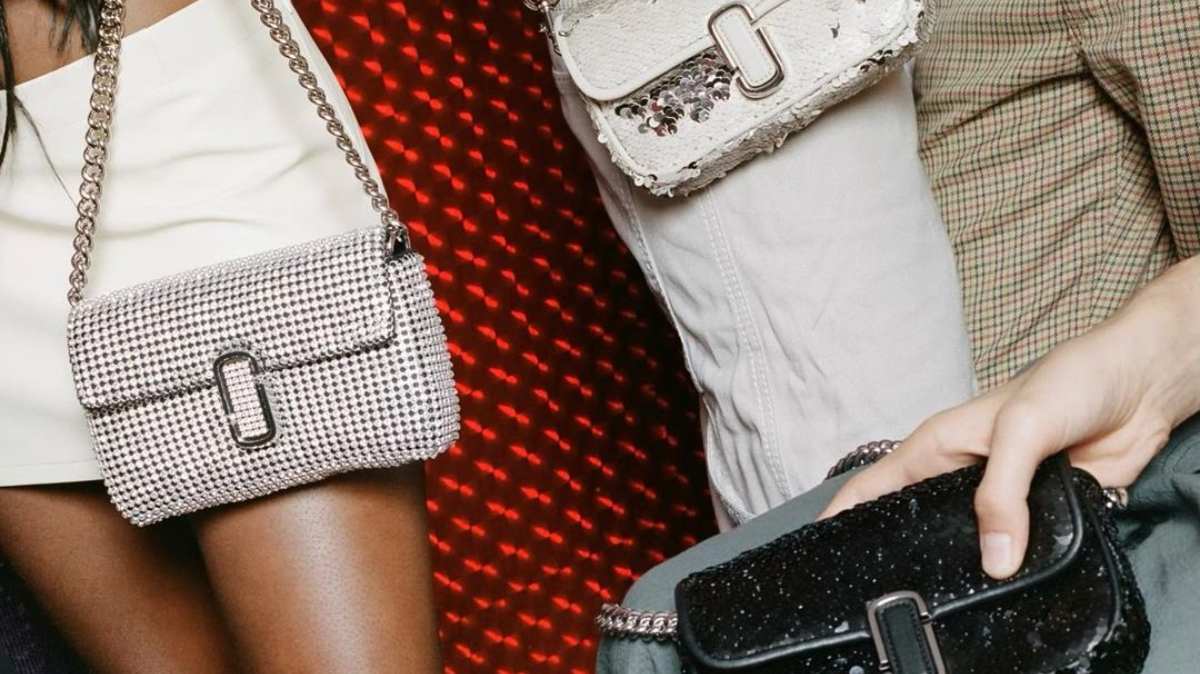 A favourite among Gen-Z and millennials, here are the popular Marc Jacobs Shoulder bags set to follow the success of the iconic MJ Tote Bag and Snapshot.
Written by Mae-Lei King
Featured Image Credit – @amybethvdl