No handbag collection is complete without a Tory Burch bag. The sweet spot between a timeless investment and a level-up handbag to keep you on-trend. Known for championing women and their accessible high fashion, these effortlessly chic designs will complete your wardrobe. Here is everything you need to know about the iconic brand and the different Tory Burch bags… 
Who is Tory Burch? 
Tory Burch launched her label in 2004, in her early life she grew up on a farm in Pennsylvania with her three brothers. Her parents travelled a lot and were super stylish, however at the time, she was more into horses.
Tory attended a girls boarding school where she learnt how to empower other women and be supportive of one another. After leaving boarding school, she went to university and one week after graduation moved to New York. Throughout her career, she worked for Harpers Bizarre, Loewe, Ralph Lauren and Vera Wang. 
Tory Burch Beginnings  
Tory aimed to provide accessible fashion for women based on what she felt was missing from her own wardrobe. Opening her boutique on 257 Elizabeth Street New York, she opened her store the same day she launched her website and sold out 75% of stock on the first day. 
Ten months after the brand launched, Oprah Winfrey was gifted one of her tunic dresses and she was invited on the show. The next day the Tory Burch website blew up with 8 million views. 
Tory Burch Today
Today, the brand has 300 stores worldwide, 225 employees and is renowned for its American, preppy, bohemian style. Accounting Jackie Kennedy and Lee Radziwill amongst its style muses, it takes inspiration from the '50s and '60s to create contemporary, elegant accessories. 
Sported by the likes of Ashley Olsen and Jessica Abla, the American brand is a firm favourite within the fashion world. Whether you're a college student, stay-at-home mom, or a working professional Tory Burch has something to offer everyone.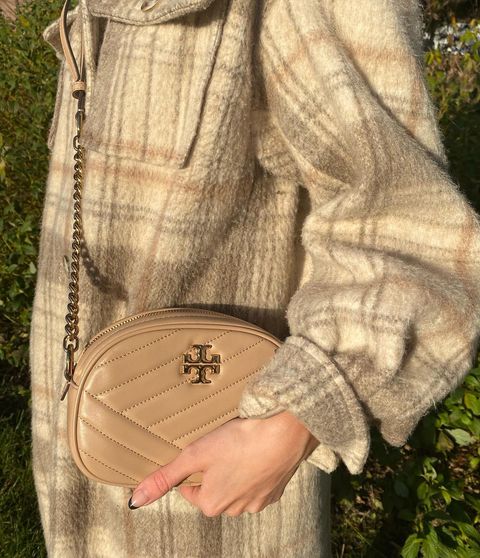 Kira
The most popular style of the Kira is the convertible shoulder bag, which can be used on the shoulder, as a crossbody, or as a long strap.
It comes in different silhouettes, including a camera bag, shoulder bag, crossbody bag, and the most popular convertible bag. If you want to see more close up's of the bag watch our video below.