What's better than a night in with your besties watching your favourite chick flick? Endlessly rewatchable, the stories are woven with hilarious one-liners, crazy characters and killer outfits. Not only did these films teach us a little bit about love and friendship, they taught us a lot about fashion. Our favourite chick flick outfits were unforgettable – think of Cher Horowitz in that yellow two-piece, Regina George's velour juicy tracksuit, or Elle Woods in the hot pink leather number. Three fashion icons that had us obsessively googling '90s and noughties style.
#1 What did they wear in the 90s?
An era defined by warring sub-cultures, the '90s can't be reduced to a single aesthetic. If you want to remember the preppy side like Cher, think of slip dresses, scrunchies, mini skirts and mules. To remember the Nirvana fuelled rise of Grunge, think oversized plaid shirts and ripped jeans with Dr Martens. If you want to go back to a time when Tupac was still alive, try some baggy jeans, a cropped white vest and pristine sneakers.
#2 How do you dress like the 2000s?
A world where Paris Hilton reigned supreme and Kim Kardashian was just cleaning her wardrobe, the noughties are known as the time of tackiness. Although Punk, Scene, Emo and Streetwear styles were on the fringes, oversized sunglasses and juicy tracksuits are the things we like to remember. Think OTT girly girl and imagine Paris in a skimpy skirt, wearing stilettos with a halter neck top, holding her diamante encrusted Motorola.
#3 Fashion lessons from our favourite chick flick outfits:
Our three favourite films for '90s and noughties fashion have to be Clueless, Mean Girls and Legally Blonde. Each of our three blonde bombshells go on a journey of self-discovery, while always being the best dressed. Here are some of our favourite chick flick outfits and the styling lessons they taught us.
Clueless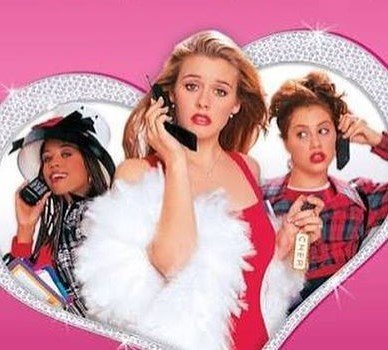 As if we could do the most iconic chick flick outfits without including the fabulous Cher Horowitz. The queen of plaid, Cher is loved for her impeccable taste, buggin' burns and loving nature. Although she assures us that she's 'totally a normal girl', her computer closet was way ahead of its time.
Named as Alexander Wang's favourite film, Clueless heavily influenced the '90s and still inspires fashion today. Rebelling against the grunge aesthetic of the time, Cher's preened style started the wave of preppy minimalism. Flawlessly pairing slip dresses with scrunchies and trimming everything with fur, the wardrobe in this film is to die for. Cher's iconic yellow two-piece still turns up every Halloween and was even worn by Iggy Azalea in her chick flick inspired music video.
If you like preppy, pristine and plaid looks – Cher will be your go-to style guru. Here are some styling lessons we learnt from Cher Horowitz.
#1

Plaid is like totally the best print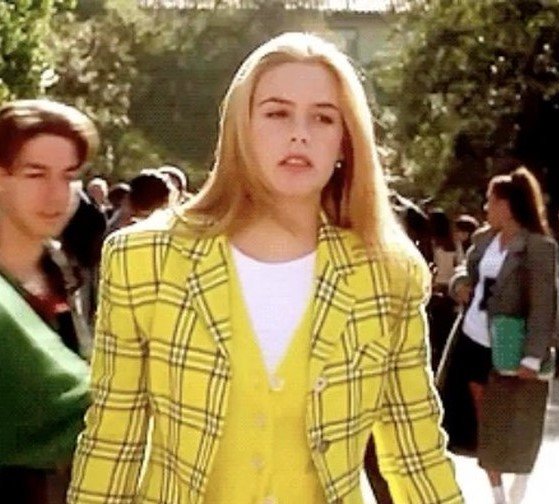 @cluelessthemovie
Clueless made plaid mini skirts a major piece of 1990s pop culture. According to Cher, the skirt can be A-line or pleated, as long as it's mini. Depending on what colour you choose, the skirt can go from punky (think black or pink) to preppy (something bright, like red or yellow). Pair it with a matching tailored jacket to make a statement.
#2

Layering is everything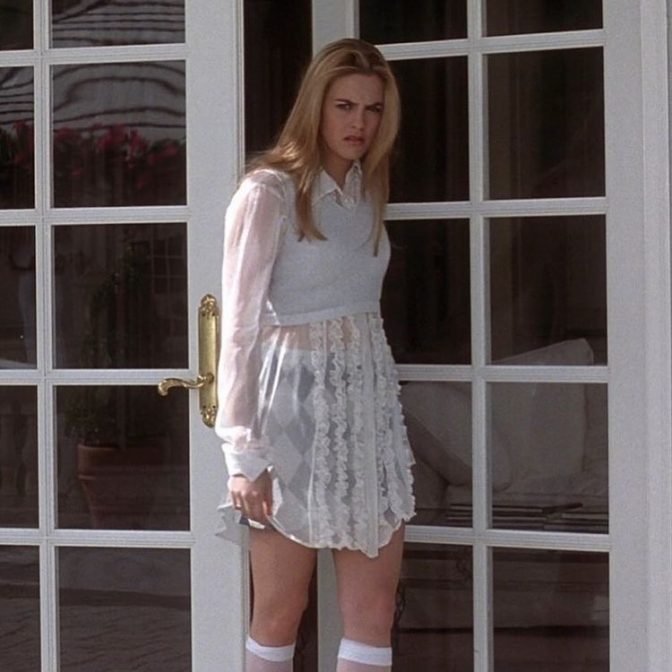 Cher shows us that layering can take any staple item from a five to a straight ten. Go for any fabric you like, as long as the necklines differ. You'll need to pair something high, like a turtleneck, button-up collar or crewneck, with something low, like a strappy crop top. If the hemlines differ too – even better. Although the grandpa vest and white shirt combo has come back with a vengeance this season, Cher Horowitz was doing it 25 years ago.
#3

Sheer shirts are a must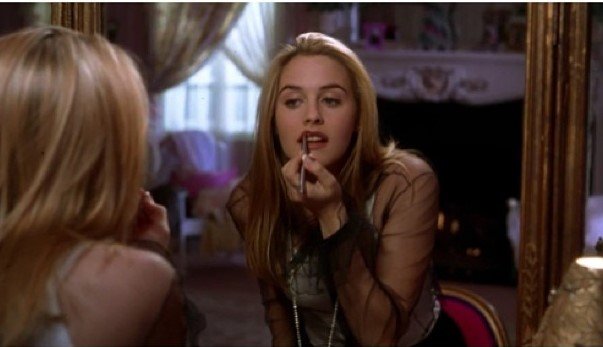 @cluelessthemovie
Another great piece for layering, sheer shirts are a wardrobe must-have. Undeniably sexy while still remaining chic, sheer takes a classic shirt from day to night wear. Pair it with a tonal strappy top for a smouldering style.