If you're anything like us, your current Netflix obsession will be The Queens Gambit. Not only for the gripping storyline but for the impeccable 60's styling throughout. Lead character and orphan Beth Harmon is the perfect example of 60's dressing with her retro shapes, prints and accessories galore, all while embarking on her journey into chess stardom as well as battling addiction. Here are the style lessons we learnt from The Queen's Gambit.
#1 What is the Queen's Gambit?
First of all, you may be asking what even is The Queen's Gambit? As well as the name of the Netflix show, the Queen's Gambit is in fact an a move in chess, where the player using the white set opens the game by moving their Queen's pawn into the centre of the board, consequently sacrificing it's adjacent pawn in their next move.
#1 How to dress like Beth Harmon in The Queen's Gambit
Collared cardigans
60's accessories
A-line cut dresses
Loafers
Retro prints
#1 Collared cardigans
A staple item in Beth Harmon's wardrobe is a buttoned up collared cardigan. Seen on both the runways and high street season after season, collared cardigans inject some 60's femininity into your style. Perfect for layering over A-line dresses or pant suits you'll reap both style and comfort benefits. Beth is seen sporting a selection of fitted and oversized cardigans throughout the series and we can't get enough.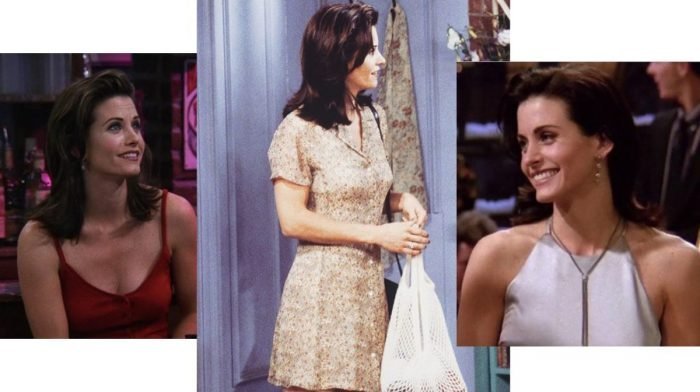 Could we BE any more obsessed? From perfect jeans to formalwear, Monica Geller's outfits are providing up with all the 90s style inspo we need. These are the style lessons to learn from our favourite character.
#2 60's accessories
The 60's were the absolute height of ladylike accessories. From dainty chain watches, necklaces and bracelets to top handle handbags and vintage headscarf's. The Queen's Gambit costume department absolutely nailed this part of Beth Harmon's look, with a new accessory for us to swoon over in each scene.